I got no more holidays after since today! 3 assignments waiting for me to complete before our study week which is the first week of April, and the thesis writing is definitely drive me crazy! I called today as 'assignment-day', since we got assignment for each of our classes just now. Hope to finish it as soon as possible. Please, after this week, after the doomsday I said, I hope to get some rest or fun.
Heard the good news about our Malaysia's king of badminton? Dato Lee won in the All England 2011, proud with him; but why we don't get a public holiday on behalf of his honor? We should have a day off, I mean I need a day off seriously.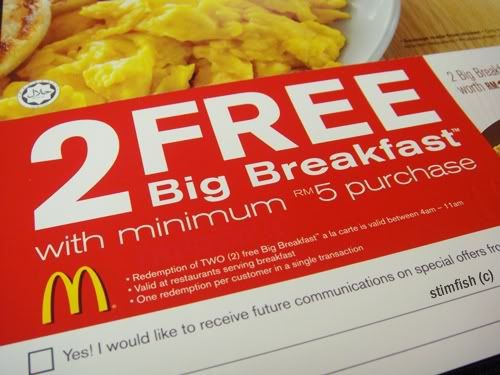 My roomie gave me some good deal again, this time is the McDonald's voucher, which I think it's really a big deal for everyone. Spend only RM5 and then you'll get 2 FREE Big Breakfast which worth RM13.80. Is it sound cool to you? I'm drooling already, anyone?
By the way, I had already started to write and draw something in my journal, will tweet some thought in it soon. Kind of nervous. O.o
. . . . . . . . . .
"They say the good things take time, but great things happen in a blink of an eye." I think I had blink too much until I lost the great thing, or it's just the great thing haven't happen on me? It's now depends on you, do you know it?