Ai Leng woke up at 6a.m. and went to the bridal house for make-up, and the rest of us were later than her, bride always the tired one. I were in pink and white, matched the theme. Everyone started to feel nervous when the time was near. Groom and best mans reached, started to make noise and wanted to go in the bungalow without giving any ang pow. We guarded the door with our life.


Games started, nothing overladen, so nice to see all the brothers willing to sacrifice for the groom. Groom was doing his best to pass every barrier that were given by bridesmaids. One by one, he managed to got up to the room, and here came the last one: he sang a love song to Chuk Leng's sister. Door opened, and she sat in the middle, smiled happily and looked at him with a pair of watery eyes.
He grabbed his wife at last, I heard that they were in a relationship for long time, since form 6 if not mistaken. Followed by tea ceremony and the family photos. Then they went to pray at temple before head back to groom's house.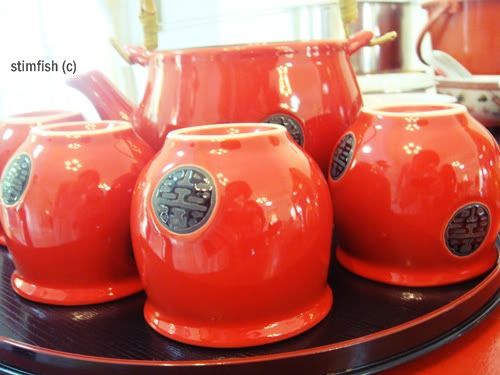 I didn't followed them, too tired for me to do anything after did so much in the morning. Just stayed over there to have my lunch, do some cleaning stuff and listen to the elder's cackle. While everyone were busy preparing for the barbecue, me, Chuk Leng and Mei Leng were out to Bed to have some rest. Played some easy games with a sip of coffee, and it was free of charge. Giggle. That's good to have friends at everywhere. Back to bungalow and had my dinner before the barbecue, then grabbed some sausages and chickens. Mahjong time for the Lim's family, I'm just a newbies and not dare to play with all the master-hand.
Elders were back, youngers stay over, so am I. Chatted a lot with Mei Leng, quite a funny conversation with her. Another tired night for me, but I did enjoyed.