Finally I got all the photos, but will only upload some to share.
Went out to Pavillion just to have tea time lunch at
Ichiban Boshi
.
Did some mistake over there,
because the place that we really wanted to go is actually
the Hokkaido Ichiba located at The Gardens.
Warmth advice: Don't ever have Japanese food with this 2 fella.
because we can't assumed the portion of the food.
Ended up we forced ourselves to finish it and barely moved after that.
I still can recall that we had been in this situation before.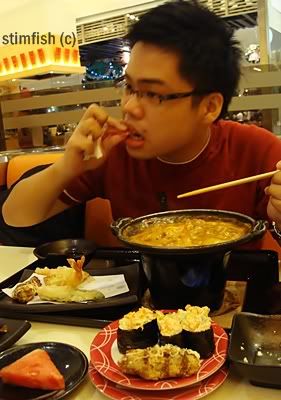 He is going to kill me once he know I upload this photo.
In fact, I feel that it's suit to be his new profile picture.
Do you feel the same as me?
Did some window shopping and took bunch of photos.
That's the deco in Pavillion:
| Jingle bells~ Jinger all the way |
Once you walk-in the Pavillion, you will get to see the grand decoration.
Greenish christmas tree match with gold ornament.
Had our dinner at '
Lot 10 Hu Tong
', my very first time.
Not much choices left because it's kind of late when we reached there.
They already prepared to close.
Still manage to order something to fill our tummy.
Su's Cakes for Kicks setting up a kiosk at Fahrenheit 88.
Free testing for the cheese cakes before you buy any.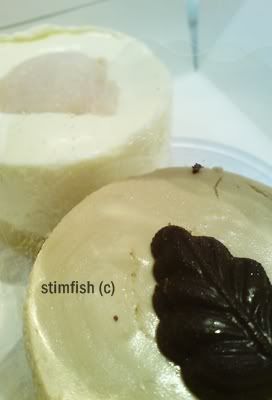 We bought Lychee (favorite of mine) and Mocha cheese cakes.
At Su's we don't just bake cakes,
we create a finesse in taste...
to light up your lifestyle and enjoyment.
Too tired, and I felt asleep in the car.