Not really stay at my sweet little sanctuary once I back to Penang, this makes me a bad daughter to my parents.
Just, I can't resist the temptation that keep offer the evil hand to me; I miss Penang so much, thirsty enough to see its new visage.
As I said, it changes bit by bit every time I come back here.
Went to have ferry ride since it is a trademark for Penang and, our last ride was a long-time-ago; we truly excited about it, or just me?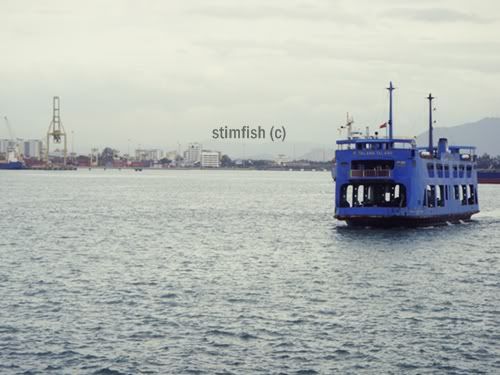 We got ourselves some nosh after the ride, the curry puff at Chai Leng Park. I'm still missing the taste, wish to get another one NOW!
Before that, we already had the fried radish cake; I guess we never have a full-tummy. We's quote: Live to Eat!
Did some shopping in Sunway Carnival Mall, too bad I can't get myself a nice outfit.
It's chinese new year soon, so a answer-and-win activity was held at the center court. For kids only I guessed, since the free gift are stickers. Yet, I were so bold-faced to walk towards the emcee and say: I want the goodies bag.
(Actually I were 'forcing' by someone to do so)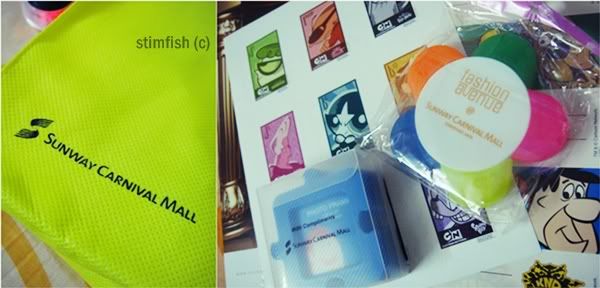 A ha, I got the answer and took the yellow goodies bag that load with highlighters, photo frame, stickers and booklet.
Got myself a sizzler Bak Kut Teh as dinner, and shared a plate of fried oyster omelette.
I'm hunger for these as well (again), me, a all-time hungry person.
Wandered around by car, to have the night view of Penang island before heading home to rest.
. . . . . . . . . .
I had a great day, had you?