I said to myself, I need to play hard before going back to uni
Haha, and I did
Yesterday i played too hard
ate a lot of nice food and watched 2 movies in a day
felt tired but enjoyed the day
1st destination, I went to

Smoky Jack

with bamboo
promised to treat him
because he always treat me what
this was the 2nd time for me to go there
I just in love with the design of Smoky Jack
when you step inside the restaurant
there are gnarled tree branches curling all around you
Take a look up onto the ceiling
you will realise that there are dozens of old, battered doors
hanging down on top of you
this is a creative design
at least for me
haha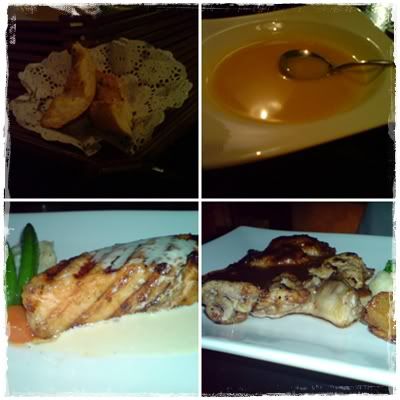 He ordered Hungarian Grilled Chicken
and mine 1 was Grilled Salmon
and it served with pumpkin soup
it was so tasty
yum yum~
the main course looked small
but then we were pretty full with that
gonna bring Ny to go over there to try next time
because when i told her about this restaurant
she was so excited
wait for the next holiday
^^
After our lunch, I went to find my colleague
for the last time in this holiday
hehe
going miss them much
We went to watch

Princess and the Frog
haha
I yearn to watch that actually
so nice of him accompanied me to watch that
I not sure whether he liked it or not
but then he said he enjoyed that movie
I love 1 sentence in this movie
"She is my Evangeline"
It was touched when the prince say so
what is Evangeline?
haha, go find out yourselves
Then, I had dinner with Mandy
this was the 1st time for me in Chilis
we still need to wait because it was full house
lots of people went there to have dinner
hehe
we ordered Triple Play and another 1 I forgot the name
superb full this time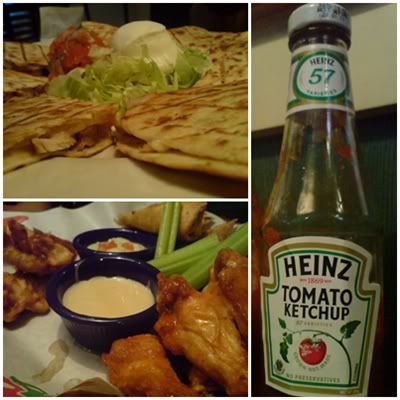 What's next?
AVATAR!!!
you must watch this movie in cinema
and we spent a long time to finish it
nearly 3 hours
I like the place where Na'vi stay-Pandora
the atmosphere is so nice
full of trees and weird creatures like Ikran
I hope to have 1
flying together with it should be nice
and the

love

between the man and the Na'vi is nice and strong
during this holiday I watched quite a number of movie
2012
new moon
phobia 2
a chritmas carol
princess and the frog
avatar
the funniest 1 was phobia 2
watched it with mr B as well
cause we got nothing to do at the early holiday
really get shocked and at last felt funny
what a movie
somemore we watched it at late night
people beside us watched for 5 minutes then ran out from the cinema
so we are still so brave compare to others
ate a lot during this holiday as well
Rasa sayang hotel
chilis
smoky jack
the most important:
hawker food
hehe
gonna miss penang much after I go back to uni
I LOVE YOU
^^