What did you do during Halloween?
Study?(because of that stupid final exam..)
Party? Stay at home?
Haha...again we went out and had a crazy night
We really played a lot in this semester
Too stress? or too bored?
Haha...
We went to sungai long to have our dinner
love hawker food so much, because it taste nice
*Miss penang food again*
HAHA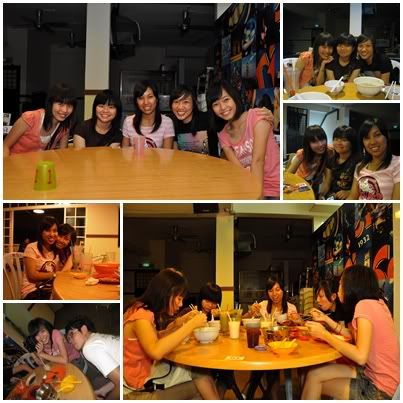 we looked like having a gathering there
because taking photo here and there
and for sure other people kept looking at us
but then we still continued to have fun
Took a photo again before we go for our next destination
Alamanda~
Why we want to go there?
that day is 31st of Oct
Baskin Robbins Day!!! Let's wuhu~
6 people shared a Quart
but then Jeremy just ate a bit, because it's too sweet for him~
we all grabbed a lot to put in our mouth
Fuh~
Finally had our BR in this sem
*give me five*
While waiting for our bao bei Arif to come
(because we help him to buy ticket-This is it, nice huh?)
we were hanging outside Alamanda
Playing around there
until we all were so tired to move and started to rest
Thanks to Jeremy again
we had a crazy night because of him
*clap clap*
WUHU~