Today was a sunny Sunday, so me and Yong Sin decided to follow our plan, went to Penang Beach Carnival 2011 at Golden Sand Resort Hotel, early in the morning. There have plenty of games for us to take part or you can also just have a walk; open from 7am until 9pm.
Windy but broiling weather, and I become darker after I stand under the sun for more than 5 hours.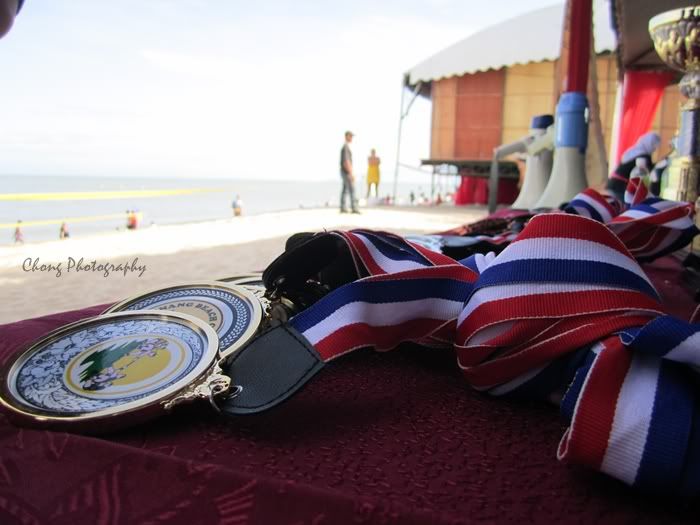 Met new friends over there, which come from Bukit Mertajam, another side of Penang; we decided to join the Tug-of-War, randomly. Eight of us team up and I was chosen as their team leader. Photo taken during our registration for the game, medals for winner.
When the game started, we just found out that all of other teams are professional Tug-of-War players, they even have a coach stand besides them and give command. Also, we are the only Chinese team for both male and female group, feel proud indeed. Proud to be the support of my team members, be the last person holding the rope and pull them back as hard as I can. No photo available. Laugh.
Was exhausted after the games, played several rounds in a row. First time get myself a bottle of Red Bull after the game, oops, two of it.
We got ourselves as 2nd-runner up, proud to be that! Although I got scratches on hands and legs, a lot. Sat on rope and conquered it.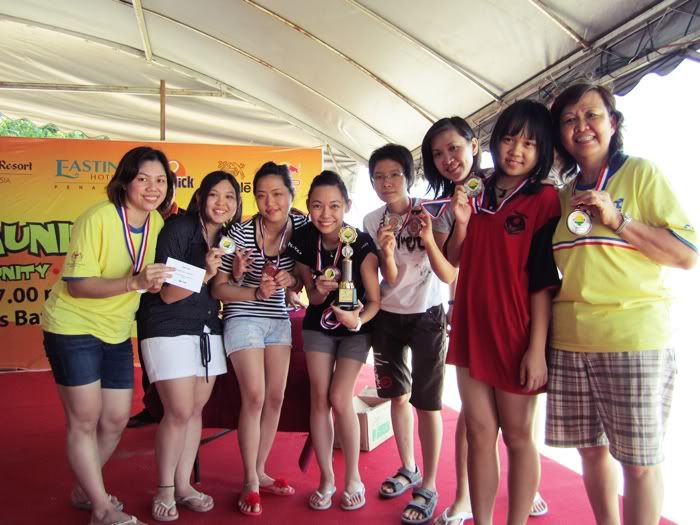 Members of the team, from different age range; we got medals, trophy and RM150 cash; I grab the trophy back with me after the ceremony. Didn't have energy to take part in other games, I can't feel my feet after-all. Laugh. A very good experience for me, and happy to meet up lovely people on the beach.
. . . . . . . . . .
Other races and foreigners were so supportive, when we get into the battlefield. Thanks!